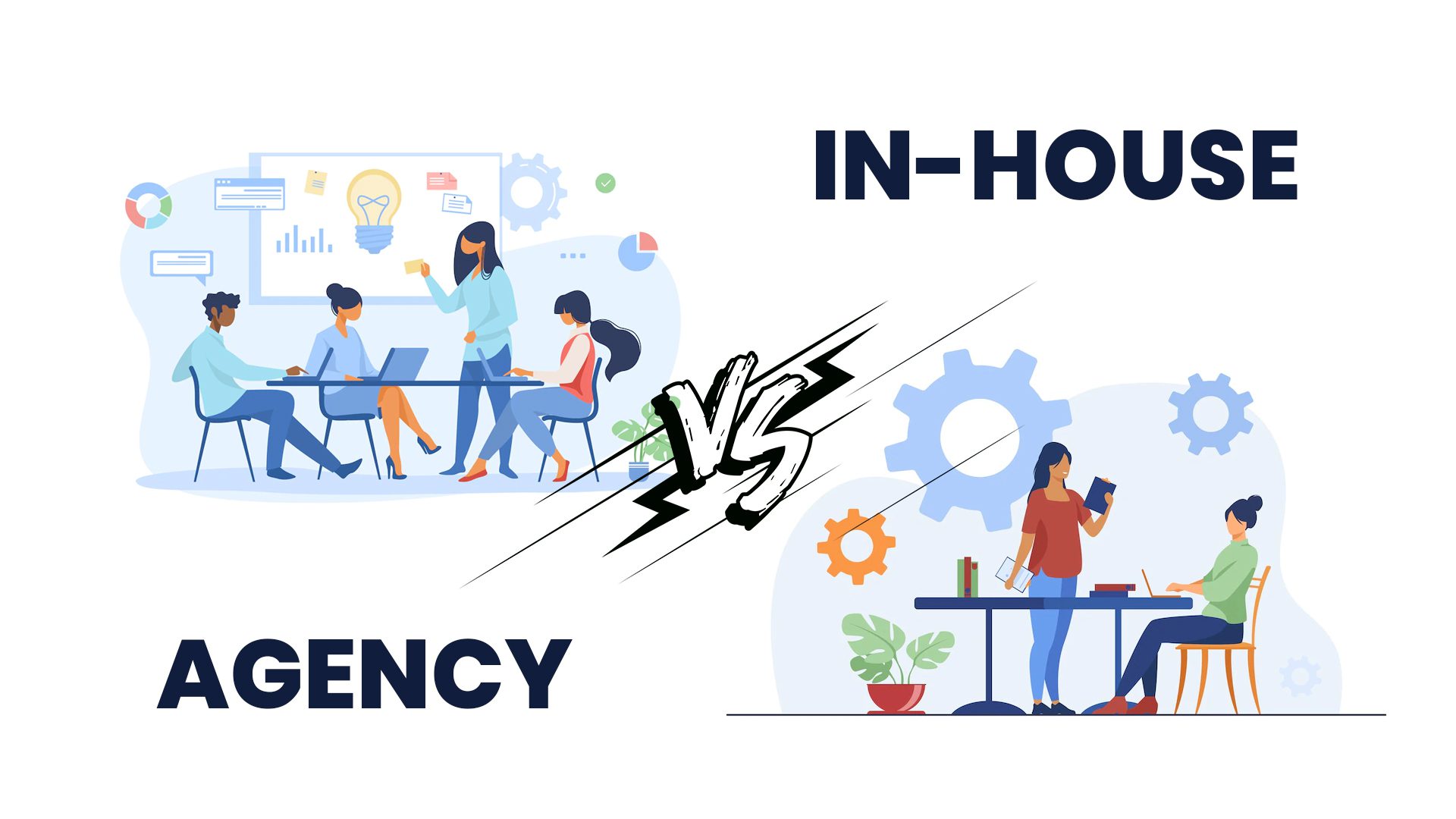 25 Nov

IN-HOUSE VS AGENCY

So, you want to market your business. The first step is to decide whether you want to create an in-house marketing team vs working with an agency. Each of these solutions has pros and cons; what works best for one company might not for another.
Marketing Agency
PROS vs CONS
Expertise – You are now working with experts who have a wide berth of knowledge and are not limited one-dimensionally. Some agencies may specialize in specific industries. However, all agencies understand how to make the best use of your budget, build your brand voice and message, and track analytics. Agencies can also show you a return on your investment.
Capabilities, software, and tools – As marketing professionals, agencies have all the right tools and software to build your brand effectively. There is no need to purchase your own software or invest in a bank of information.  Agencies have more training and experience, and can focus on helping you reach your goals and objectives.
Specialties – Agencies are composed of people with different degrees of specialization who work together to create multiple cross-channel campaigns, whereas an in-house team might be limited in this area.
Scalability – At busy times of the year, some in-house agencies may not have the bandwidth to sustain or increase your marketing presence.
Multiple clients – While agencies are committed to each brand they work with, some clients could feel put off by the notion that the agency is working just as hard with other clients. However, this is often not the case. Your account managers are a part of your team and want to see you succeed.
Control – Sometimes it is hard for businesses to relinquish any control over their marketing efforts, but agencies function best with some wiggle room. They value your input, and will not move forward with any big strategy decisions unless you grant your permission first. The ability to trust your agency to pursue your best interest doesn't always happen overnight.
In-House Marketing Team
PROS vs CONS
Brand familiarity: – The people who work within your company know the brand — presumably inside and out. They have a thorough understanding of what you do, why you do it, and what goes into it on a daily basis. While agencies are committed to getting to know the ins and outs of your brand, in-house teams have a different stake in the game.
Accessibility – Everyone works for the same company.
Focus – Your in-house team does nothing but marketing for you and cash their paycheck.
Recruiting Talent – Putting together a solid in-house team that works well together is a massive time and financial investment.
Expenses – A successful marketing team uses SEO tools. In fact, this is another reason why an agency is a better idea. SEO training requires consistent CEU clases to keep up with industry trends. In-house marketing departments typically freelancers if your employees aren't trained in everything you need to accomplish your goals. You can usually count on an agency to have the necessary tools already at their disposal, so you don't have to fund them independently. Capability and Scalability – When putting together your team, you are limited to the skills found within your applicant pool and the resources you have to work with. Assembling your dream marketing team can be a long and costly process. In-house teams often have less access to specialized skill sets. Similarly, any employee turnover can offset the balance of your team and lead to setbacks. This puts pressure on the remaining staff, which could lead to lagging performance. Compare this to an agency, where there is no risk of your strategy being put on hold.
At Silesky, we pride ourselves on being an outside agency with an in-house attitude. Want to learn more about what that means? Give us a call.